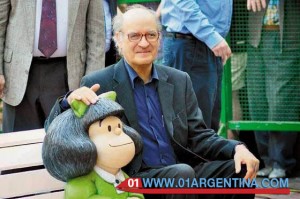 This street circuit around the neighborhood of Monserrat pays homage to the characters of the main story cartoons Argentina: Mafalda, Isidoro, Patoruzú, and Gaturro Clemente, among others.
1 – The walk starts in Defence and Chile with Mafalda (the world famous girl created by Quino).
2 – Continue to Chile Isidoro Canyons Balcarce (Argentine playboy prototype, designed by Dante Quinterno).
3 – Balcarce and Mexico is Lanky (the clueless character of Manuel García Ferré).
4 – Later, following Balcarce to Avenida Belgrano Matthias (child inquisitive Sendra) are located.
5 – Following yet Balcarce this Don Fulgencio ((«The man who had no childhood», by Lino Palacio).
V6 – sitting waiting for this acclaim Clemente (the unclassifiable character, football fan, created by Caloi).
7 – Finally reaching the corner of Balcarce and Belgrano we find the Girls Divito (that marked several generations of Argentines).
8 – On Belgrano Avenue and Paseo Colón is stationed Patoruzú (tehuelche chief, also created by Quinterno).
9 – Continuing on Belgrano and reaching Azopardo, we find Gaturro (the famous mascot Nik).
10 – Finally got to Puerto Madero and met the renowned Don Nicola (Hector Torino).
11 – About Juana Manso 100 mts. we find Negrazón and Cotter (A. Cognigni).
12 – Following the tour of Avenue Marta Lynch, I appear Diogenes and Linyera (Tabare).
13 – And we continue along Av Lynch and we met and shrimp Corina (Eduardo Ferro).
14 – A must on this tour, and his inseparable Pereyra toilet dog Mendieta, creating Roberto Fontanarrosa
15 – Finishing the trip up to the Museum of Humor Av Italians we find creating Giraffe Teether
Mafalda, Quino
Established in 1964. Thoughtful and critical. Representative of the intellectual middle class of '60s and '70s, is concerned about humanity and world peace and rebels against the world bequeathed by their elders.
It is one of the best known and installed in the Argentine comic collective imagination. Read Mafalda is understood to Argentina, but expressed concerns that she and her friends are of universal nature. Quino achieved in this cartoon characters give very deep and representative of a social class identities and a moment of very marked country. It is also very popular character outside Argentina.
Isidoro Cañones
He is a comic book character of Argentina, created by Dante Quinterno. It was originally created as Patoruzú secondary character, but eventually gained enough popularity to have its own story. The character shows the «greatest playboy of Buenos Aires» and his life living with the bar, his beautiful young accomplice Kitten, between Colonel Canyons (authoritarian uncle though quite ignorant of reality, fashioned a substitute father), and other characters added each «madness» of Isidore.
Larguirucho
Argentina is a character animation, created by cartoonist Manuel García Ferré, which was popularized as part of the television series Hijitus, originally issued between 1967 and 1974 on Channel 13 of Buenos Aires.
Clemente
He is a cartoon character created on March 8, 1973 by Argentine cartoonist born in Salta Carlos Loiseau, better known as Caloi, published daily in the humor page of Clarín of Buenos Aires until September 22, 2012 – Caloi died in May but left written strips that were published to date.
It began as a minor character in the strip Bartolo machinist. On March 8, 1973 was presented as its mascot. Shortly after, the strip renamed Bartolo and Clemente, Clemente and then to displace Bartolo Bartolo main character of the strip, renamed Clemente.
Patoruzú
It created by Dante Quinterno in 1928, is one of the most important and influential cartoon characters Argentina. Born as a secondary character in two comic strips short life, the chief Patoruzú-the last of the tehuelches, which the Spaniards had seen at the time as giants endowed with prodigious strength obtained in a short time their own cartoon, which would rise to the eponymous magazine, one of the great milestones of humor in Argentina.
Gaturro
He is a series of books written by Cristian Dzwonik (known as Nik) .1 The series has more than 50 books, including novels, comics and small. A film adaptation was released in September 2010 and a virtual world for children, has also been released in 2010