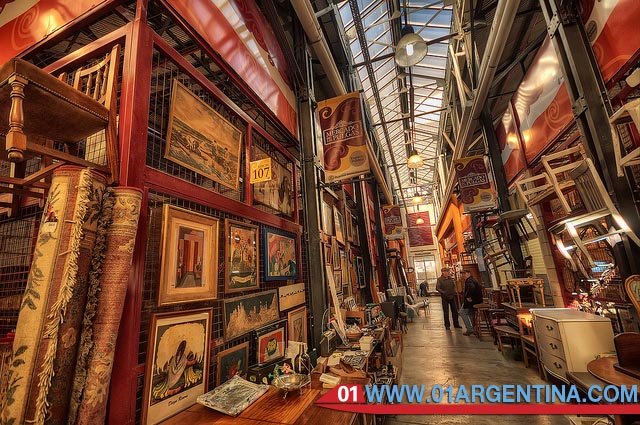 Every weekend, the city of Buenos Aires awaits visitors with a score of markets and fairs in parks and squares of its various neighborhoods. They are spaces that are a walk in itself and allow the traveler shopping spree purchase items you will not find in shops of the downtown streets.
Each of these areas has its own identity and the choices are varied: from antiques and crafts in leather, silver or wood, even in books, coins and magazines used. Not forgetting, of course, fresh food and dishes ready to enjoy.
Some of these sites include tango shows, art exhibitions, shows of street artists, classic and taming rodeos, dining areas and bars to the typical Buenos Aires coffee. Overall, visits to the neighborhood associated with this activity, commercial and entertainment mix. Meanwhile, there are fairs that were created in the form of street and are found every day in a different place.
In the variety of fairs and markets taking place in Buenos Aires, Argentina's capital city, they highlight some to be the most visited by convening every weekend more than 5,000 people. In this description, the Mataderos (Av. De los Corrales and Lisandro de La Torre) appears, open Saturdays, Sundays and holidays from 11 to 20. A space in which Argentine folk traditions are on display.
300 posts in this typical Buenos Aires market, mates, musical instruments, ponchos, blankets and leather objects are offered. In addition, folk art festivals and tango, gaucho skills, exhibitions, talks and lectures are organized. To the palate of the visitor, meat pies and locros are prepared.
In the limit of Palermo and Colegiales, it is the Flea Market. With its doors open since 1988, he surprises visitors with six halls exhibiting from expensive antiques to modern rummage. In addition, in the same place the furniture restoration service is offered.
Crafts in the oldest neighborhood
For those seeking native souvenirs, made by local hands, the ideal space are the squares and parks of the city. Among the craft fairs most visited appears the San Telmo (in Plaza Dorrego, Humberto Primo and Defensa, and along Defensa Street) on Sunday from 10 to 17. A place where besides works of art, accessories and antiques, the visitor discovers the secrets of the classic 2 × 4 Buenos Aires with teachers who teach outdoors.
In this southern neighborhood also open every day from 10 to 19 Artisans Fair Argentina (Defense 1281), where gauchescas crafts are sold. In the neighboring area of La Boca, are unmissable Paseo de la Ribera, with regional products; Plaza Vuelta de Rocha, Thursday through Sunday from 9 to 19; and Fair Caminito, every day from 10 to 18, with artists who paint portraits and tango dancers.
One of the stops for young people every weekend is Plaza Francia. A circuit that includes a visit to Buenos Aires Design, the Recoleta Cemetery and the Hard Rock Café. Artisans and artists come to this space Saturdays, Sundays and holidays from 9 to 19.
Finally, for those seeking art and design objects, the Paseo palermitano Darwin (Honduras and Gorriti), weekends from 10 to 20. The site also offers cultural activities, shows and stalls with tourist information. The fair Dorrego (Av. Dorrego and Zapiola), the Arts Fair (Defense and Alsina) and Entrepreneurs Fair add to this area, at the entrance to the Ecological Reserve of Puerto Madero.
Used books with history
At least seven open spaces offer used books land in Buenos Aires difficult to obtain elsewhere, from Tuesday to Sunday. They are the Plaza Santa Fe, Plaza Houssay, the Plazoleta Tango, Centennial Park and Parque de los Patricios, just to mention a few. One of the most comprehensive in this area dedicated to collectors is fair Rivadavia Park (Av. Rivadavia 4800), open daily from 9 to 19. In addition to used books and magazines, are there ancient coins, stamps , letters, envelopes and vinyl records.
GOURMET FLAVORS
During the stay in Argentina's capital, many tourists seek to unravel the secrets of traditional cuisine. And to find the chords and freshest products, there are gourmet fairs where they usually make purchases specialized chefs and great restaurants. In Belgrano, for example, one of the routes is bound by the famous Chinatown, Tuesday to Sunday, where sushi is bought at any time and are the most extravagant of oriental cuisine products.
For argentos flavors, nothing like the Mercado El Progreso, a symbol of Caballito, open Monday to Saturday from 8 to 13 and from 17 to 20.30. With 120 years of history, it maintains the atmosphere of the early days and surprises visitors with unusual proposals. For example, rabas tastings are done while the shift in the fish is awaited. For those who prefer a healthier diet, in Chacarita is the Shed Organic Wednesdays from 9 to 12 and on Saturdays from 9 to 18. A different natural products coming from nearby farms and fields the Federal Capital .
Old Buenos Aires Markets
To close this variety of fairs and markets locals, there are those sites that carry more than 100 years of history. One of these mythical spaces is the Fair Model Belgrano, better known as Market Oath, inside Plaza Norway. Land donated by Jose Hernandez, author of Martin Fierro, now home to 30 businesses.
At the intersection of Avenida Entre Rios and Independence, it is the Mercado San Cristobal, a building that was begun in 1882 and only ended 63 years later. In one of the outer premises of this place, it is open since 1930 the Grand Café Gardel.
Finally, at the corner of Bolivar and Calvo, the classic San Telmo Market erected on a building Italianate style built in 1897. There, retail spaces were divided into two areas, on the one hand, antique dealers; and, on the other, local centenaries of fruits, vegetables and meats of all kinds.