City tour of Buenos Aires by Tourist Bus
The head of Government of Buenos Aires, Mauricio Macri, toured the new tourist bus stops in the City of Buenos Aires and confirmed that tourism is an activity that «creates jobs, connections with other countries and an intense cultural exchange.»
«We work closely with all stakeholders in the tourism business for the City of Buenos Aires maintains its landmark in Latin America,» Macri said at a news conference.
The prime minister made the journey with the culture minister, Hernán Lombardi, and former River Plate goalkeeper Amadeo Carrizo, a national football glory.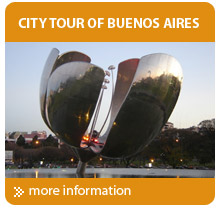 Is that the Tourist Bus extended to 27 the number of stops along his tour of sites in the City, which now includes the River Museum, the Holy Land theme park, Belgrano's Chinatown and Jorge Newbery Airport.
«We always aim to make the City provide more and more things to those who visit, especially during vacations for families and tourists to spend good times, considering that Buenos Aires is the gateway to some very nice places that have the country, «said Macri.
Macri, Lombardi and Carrizo boarded a bus in front of the unit Planetarium and after passing through the River Museum made a stop in the Holy Land, where they were received by his regent, Maria Ferro, and signed the guestbook.
During the winter holidays, locals and tourists have a wide cultural offer available at theaters, museums, libraries, outdoor book and Planetary Circus Polo, among other destinations.
Even the Government of Buenos Aires last Monday launched a program aimed at residents of the City which are drawn for hotel stays, meals at restaurants and entertainment revenue.
City tours in Buenos Aires by tourist Bus
Tourist bus service, with departure and arrival in Florida and Diagonal Norte, started in April 2009, based on demand for a large number of visitors who arrive daily to the City, considered the cultural capital of Latin America.
They are specially trained units, with capacity for 60 passengers each, guides, open top and informational material, running through the most representative of the City of Buenos Aires.
It uses a default schedule and travels the circuit outputs for a period not exceeding three hours.
Passengers can make use of the ascending or descending as many times as you want in any of the stops authorized during the term of the ticket, which can be one or two days.
The tour starts at 9 in high season (from the first day of June last November, plus Easter, Carnival and long weekend in Mercosur) and 9.30 in low season.
The final output is at 17.30 in both cases, the frequency of half an hour and the total duration of circuit 2 hours and 45 minutes.
This service is used in major cities such as Madrid, Barcelona, Berlin, London, Paris, New York, Sydney, Munich, San Francisco, Seattle, Chicago, Victoria, Toronto and Ottawa.
Source: Government of the City of Buenos Aires