Tango Argentino, cultural tourism in Buenos Aires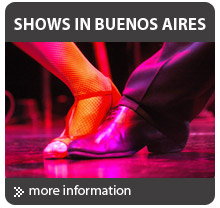 The tango is a dance permeated in every corner of Buenos Aires. It generates a lot of feelings between steps, hugs, stares and doodles. Here we tell you where to dance, live it and enjoy it without having to be an expert. There are cultural centers, lounges, cafes and clubs where they teach from the easiest to the most convoluted movement jumps. Classes can be individual or group or intensive programs.
At the milongas, tango lives differently. They converge redoubts where curious, beginners and amateurs, tempted by the same passion: dancing tango. The Tango lessons are developed throughout the week, mostly after 18 pm and late into the night. The most emblematic tango tours take the travelers to Caminito Street in La Boca. The couples dance there with surprise around every corner. On Sundays, from 18, the milonga is danced in Plaza Dorrego, near the Antique Market in San Telmo. And the "vereda del Tango,it is practiced the eight basic steps on foot contour drawn on the floor (Callao 1078).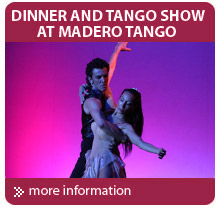 There are typical bars that pay tribute to tango as the Tortoni, the Esquina Homero Manzi, the Bar sur, the Bar del Viejo hotel, Tango 900, Homero Café, El Viejo Almacen or La Bodeguita. Worth passed by, have a coffee and enjoy the atmosphere. There are houses that sell clothing tango. There are dresses for women, suits for men, classic shoes, shawls, scarves and hats. Most of these places are in the neighborhoods of San Nicolas, San Telmo and Montserrat. Some of them are: Darcos Tango (Suipacha 259); Taconeando (Arenales 1606), Second Generation (Esmeralda 1249); Mimi Pinzon (Venezuela 3502); Tango Leike (Sarmiento 1947); Greta flora (Acuña de Figueroa 1612) and Honeysuckle Shoes (Corrientes 3190).
Recommended Tango Schools in Buenos Aires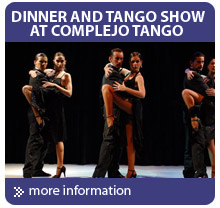 • In Palermo, are La Viruta (Armenia 1366) and Palermo Tango Studio (Charcas 3972).
• In Recoleta, Mora Godoy Tango School (Pueyrredón 1090) and the Academy of Tango Mayoral and Elsa Maria (Av Callao 1078).
• In Montserrat, Tango School (San Jose 364) and the National Academy of Tango (Avenida de Mayo 833).
• In San Telmo, Mariposita School (Carlos Calvo 948).
• In Balvanera, Roberto Herrera Academy (Sarandí 426) and Tango Education Center (Agrelo 3231).
Most famous Milongas in Buenos Aires are:
• Bendita Milonga (Peru 571)
• Independencia Tango Club (Av Independencia 572)
• Lo de Celia Tango (Humberto Primo 1783)
• Gricel Club (La Rioja 1180)
• El Beso (Riobamba 416)
• Alma de Bohemio (Necochea 948)
Free places to Dance Tango in Buenos Aires:
• In the Museo Casa Carlos Gardel, located in the Abasto, free guided tours are Monday, Wednesday, Thursday and Friday at 13, and Saturdays, Sundays and holidays at 13, 15 and 17.